FRSTeam Fire Restoration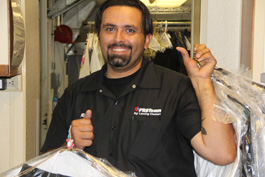 FRSTeam by Lansing Cleaners is proud to be a part of the nation's leading fabric restoration group. We take great pride in serving the people of Illinois, as well as Indiana with the highest levels of quality and customer service.
We are available 24 hours a day, 365 days a year.
Call us now at (708) 474-2459. To submit a claim online, click here.
As part of FRSTeam, a growing group of national fabric restoration specialists, Lansing Cleaners is focused on loss mitigation and delivering unprecedented value, using specialized technology and personal touch to restore happiness.
Through FRSTeam, Lansing Cleaners maintains its commitment to the restoration and insurance industries by continually researching and innovating restoration solutions, from dry cleaning to laundry, from odor removal to mold remediation, then investing in the right equipment to get the job done for you.
Our Services Include:
Guaranteed Deodorization
Service Available 24/7/365
Same Day Emergency Response
Professional Damage Assessment
Prompt, Detailed Documentation
Itemized Inventory
Complete Window Covering Services
Restorative Drying/Mildew Control
Mold Removal
Short / Long Term Storage
Complete Delivery
No Charge for Non-restored items
If you have a claim or any questions, call us 24 hours/day at (708) 474-2459. To submit a claim online, click here.