Wedding Gown Care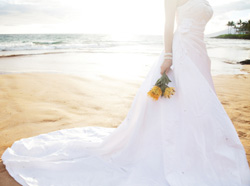 Lansing Cleaners is proud to be a Certified Wedding Gown Specialists™ through, the Association of Wedding Gown Specialists. We specialize in wedding gown cleaning, wedding gown preservation, and wedding gown restoration.
Your family gown will be hand treated and cleaned (wedding, communion, christening, quinceañera) individually -- never in combination with any other bridal dresses or family gowns. We take every precaution to protect delicate beads, embroidery, and lace during the cleaning process.
We clean gowns according to standard museum-quality practices, and you may arrange to inspect your bridal gown personally before it is carefully layered with acid-free tissue and folded into an acid-free, archival-quality wedding gown chest, preserving it for the next generation.
For any questions and to arrange for the cleaning, preservation or restoration of your family or wedding gown, call or contact us today, 708-474-2459
International Guarantee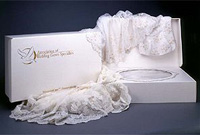 When you choose Lansing Cleaners you'll have the peace of mind knowing that you can bring your gown back to us when it is to be worn again and we'll inspect and press the gown at no charge.
Anti-sugar Stain Treatment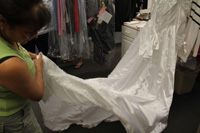 While many stains are immediately evident, spills containing sugar, salt, and acid often initially dry clear and cannot be seen. These latent stains do not dissolve during ordinary dry cleaning and turn an ugly brown over time. Our unique anti-sugar stain treatment, featured in Modern Bride and Bride's, ensures that all sugar, salt, and acid -- seen or unseen -- is removed from your precious gown.
We will gladly give you a free consultation and estimate for the care of any fabric, new or vintage, call or contact us today, 708-474-2459.